PVC Tarp from Tarps–uk
PVC Tarpaulin
PVC 610 Tarpaulins: £0.75 per square foot / £8.05 per Square Metre.
PVC 900 Tarpaulins: £1.20 per square foot / £12.91 per Square Metre.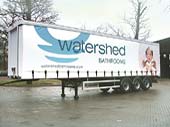 Our PVC tarps are available in two grades medium duty PVC 610 (610gm/sq mtr) or, heavier duty PVC 900 (900gm/sq mtr). Both are:
Tough – Waterproof for life – Rot Proof
Can be screen printed with a company logo etc
Complete with Solid Brass Fitted Eyelets and Ropes as Standard
Made To Measure – to your Exact Size Requirements
PVC 610 Tarpaulins are:
Suitable for: Truck Covers, Boat Covers, Roof Covers etc
Available in Blue,Green or Red
PVC 900 Tarpaulins are:
Suitable for: Truck Sides, Industrial Applications, Mining Applications, Agricultural Applications
The toughest material in the World
Available in most colours
Call us NOW on 03300414790 for an individual quote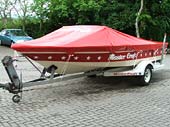 Example Prices of PVC Tarpaulins
PVC 610
PVC 900
12ft x 8ft
£72.00
12ft x 8ft
£115.20
12ft x 10ft
£90.00
12ft x 10ft
£144.00
18ft x 8ft
£108.00
18ft x 10ft
£216.00
24ft x 10ft
£180.00
22ft x 10ft
£288.00
Absolutely any size made to order.
We don't stock pre-made sizes
INFORMATION:
Price Per Sq ft: PVC610 – £0.85. PVC900 – £1.50.
Prices shown exclude vat.
Minimum charge: £60.00 plus delivery
Delivery costs by courier are £15.00 plus VAT for Tarpaulins up to 20 KG. in weight. Tarpaulins above 20 KG in weight will need to be delivered on a Pallet due to Health and safely Regulations and the costs are calculated on an individual basis which are location dependent. Please call for details.
Delivery Time: Approx. Two Weeks from Order date.
These rates apply to UK mainland only – surcharges apply to Northern Ireland, Offshore Islands, and the Scottish Highlands.
To order by post use our printable order form (Adobe reader .pdf format)
Refund Policy: Tarps-UK will only refund goods which are faulty. In this case we will either replace the item or offer a full refund. We will not refund on goods that have been unpacked or used.
Contact us NOW to order:
Phone: 03300414790
Email:
BUY ONLINE
FOR UK DELIVERY
Popular Sizes of Canvas Tarpaulins made to order to buy NOW
Round Tarpaulins to buy NOW
Covers for Ifor Williams Trailers®
Open 7 days a week
9am to 9pm
All major credit cards accepted:





Call NOW on 03300414790
Email: peter@tarps.co.uk
Open 7 days a week