Trailer Covers from Tarps–uk
Covers for Ifor Williams Trailers®
Covers for Ifor Williams General Purpose Trailers
Covers for Ifor Williams General Purpose Trailers are...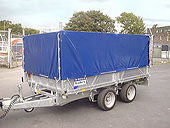 ...made with tough PVC 610 grm/sq.m material.
...are fully waterproof and UV resistant.
...individually made.
...have solid Brass eyelets and Elastic Rope fitted as standard equipment.
...are available in Red/Blue/Green/White/Grey/Black.
Example Prices
Trailer Overall Length
Trailer Width
Height at Sides Drop
Price £ (Ex VAT)
6 ft 6 inches
4 ft 6 inches
10 inches
£100
8 ft 6 inches
4 ft 6 inches
10 inches
£120
8 ft 6 inches
5 ft 6 inches
10 inches
£130
10 ft
5 ft
10 inches
£140
10 ft 6 inches
5 ft 9 inches
10 inches
£150
12 ft
5 ft 6 inches
10 inches
£160
12 ft 6 inches
6 ft
10 inches
£170
Note: These are nominal sizes only – Please check your exact trailer size.
INFORMATION:
Prices shown exclude vat.
Minimum charge: £60.00 plus delivery
Delivery costs by courier are £15.00 plus VAT for Tarpaulins up to 20 KG. in weight. Tarpaulins above 20 KG in weight will need to be delivered on a Pallet due to Health and safely Regulations and the costs are calculated on an individual basis which are location dependent. Please call for details.
Delivery Time: Approx. Two Weeks from Order date.
These rates apply to UK mainland only – surcharges apply to Northern Ireland, Offshore Islands, and the Scottish Highlands.
Refund Policy: Tarps-UK will only refund goods which are faulty. In this case we will either replace the item or offer a full refund. We will not refund on goods that have been unpacked or used.
Contact us NOW to order:
Phone: 03300414790
Email:
BUY ONLINE
FOR UK DELIVERY
Popular Sizes of Canvas Tarpaulins made to order to buy NOW
Round Tarpaulins to buy NOW
Covers for Ifor Williams Trailers®
Open 7 days a week
9am to 9pm
All major credit cards accepted:





Call NOW on 03300414790
Email: peter@tarps.co.uk
Open 7 days a week