Market Stall Covers from Tarps–uk
Made to Measure Candy Stripe Tarpaulins
£1.10 per square foot / £11.83 per Square Metre.
Our range of Super Tough Candy Stripe Tarpaulins are: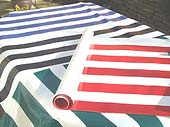 Made to Measure
Ideal for Market Stall Covers – Awnings – Patio Covers
Available in Green/White, Red/White, Blue/White, Yellow/White and Black/White.
Eyelets spaced to suit your requirements.
Only £1.10 per square foot
Designed for Market Traders looking for Toughness and Long Life in a made to measure application
Super Tough Candy Stripe Tarpaulin is 600 gm per sq metre
Example Prices of Super Tough Candy Stripe Tarpaulins
10ft x 12ft (3m x 3.6m)
£132.00
14ft x 10ft (4.2m x 3m)
£154.00
18ft x 10ft (5.4m x 3m)
£198.00
20ft x 10ft (6m x 3m)
£220.00
22ft x 10ft (6.6m x 3m)
£242.00
24ft x 10ft (7.2m x 3m)
£264.00
Absolutely any size made to order.
We don't stock pre-made sizes
INFORMATION:
Price Per Sq ft: £1.10
Prices shown exclude vat.
Minimum charge: £60.00 plus delivery
Delivery costs by courier are £15.00 plus VAT for Tarpaulins up to 20 KG. in weight. Tarpaulins above 20 KG in weight will need to be delivered on a Pallet due to Health and safely Regulations and the costs are calculated on an individual basis which are location dependent. Please call for details.
Delivery Time: Approx. Two Weeks from Order date.
These rates apply to UK mainland only – surcharges apply to Northern Ireland, Offshore Islands, and the Scottish Highlands.
Refund Policy: Tarps-UK will only refund goods which are faulty. In this case we will either replace the item or offer a full refund. We will not refund on goods that have been unpacked or used.
Contact us NOW to order:
Phone: 03300414790
Email:
BUY ONLINE
FOR UK DELIVERY
Popular Sizes of Canvas Tarpaulins made to order to buy NOW
Round Tarpaulins to buy NOW
Covers for Ifor Williams Trailers®
Open 7 days a week
9am to 9pm
All major credit cards accepted:





Call NOW on 03300414790
Email: peter@tarps.co.uk
Open 7 days a week